Turtle Bay Resort - Kahuku
21.7045135498047

,

-157.99755859375
300US$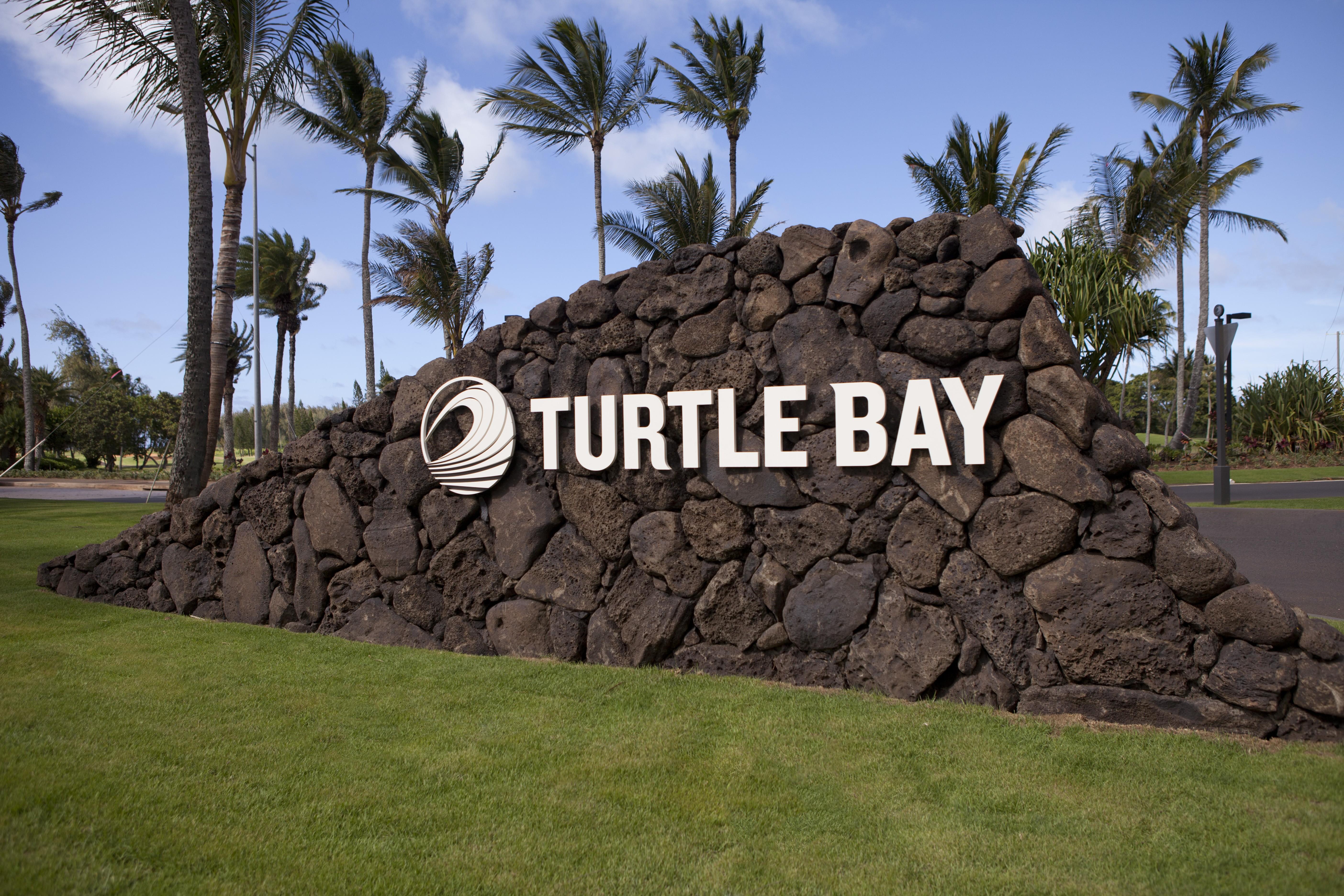 Address
57-091 Kamehameha Highway
,
Kahuku
,
Hawaii
,
United States
,
96731
, Hawaii
Overview
Based on mountains and gardens, the stunning Turtle Bay Resort Kahuku is a mere 6 minutes' walk from a tropical beach. Some of 443 rooms offer views of the sea, while onsite there is a hot tub and sauna facilities.
Location
The 5-star oceanfront hotel offers a unique location in a rural area near a ship terminal and at a short distance from Shaka Kayaks. Located 100 feet from Turtle Beach, the exclusive family-friendly resort is right at Kuilima Cove Snorkeling Beach. In addition, there is a pharmacy, supermarket and a convenience store at the footsteps of this newly refreshed accommodation. There is Kawela Bay Beach Park a 10-minute drive away from Turtle Bay Resort.
Rooms
Appointed with high-speed internet and TV set, the spacious rooms at the upscale hotel have private bathrooms and separate bedrooms. Guests can also use a walk-in shower along with amenities like hair dryers.
Eat & Drink
The Turtle Bay offers daily continental breakfast. There is a signature restaurant with modern interior serving fusion dishes made with freshest ingredients. It serves a vegetarian-friendly menu and signature food. The onsite bar offers tropical cocktails to please all tastes.
A full breakfast is served at the price of US$37 per person per day. 
Leisure & Business
A swimming pool and water slides can be provided at a surcharge. The property offers a health club as well as a wellness center for guests to enjoy their stay. Guests of Turtle Bay Kahuku have access to aquafit and yoga classes offered on the premises. There is a 24-hour business center and a meeting room available for corporate travelers.
Internet
Wireless internet is available in the entire hotel for additional charge.
Guest Parking
Paid Public parking is possible on site.
Number of floors:   6.  Number of rooms:   443.
Facilities
Most popular facilities
24-hour services
24-hour reception
24-hour security
Babysitting
Babysitting/Child services
Swimming pool
Heated swimming pool
Infinity pool
Air conditioning
Air conditioning in public areas
Facilities for kids
Children's pool
Cribs
Board games
Private beach
Beach access
Private beach
Sun loungers
Beach umbrellas
General
Paid Wi-Fi
Parking
24-hour services
Babysitting
Swimming pool
Air conditioning
Facilities for kids
Private beach
Sports & Fitness
Fitness center
Diving
Snorkeling
Canoeing
Hiking
Horseback riding
Cycling
Tennis court
Golf course
Fitness studio
Aerobics
Fishing
Services
Room service
Housekeeping
Car rental
Laundry
Dry cleaning
Tours/Ticket assistance
Stores/Commercial services
Dining
Poolside snack bar
Snack bar
Picnic area/ Tables
Business
Business center
Meeting/ Banquet facilities
Fax/Photocopying
Children
Cribs
Babysitting/Child services
Board games
Children's pool
Water slides
Spa & Leisure
Infinity pool
Heated swimming pool
Beach access
Beach umbrellas
Sun loungers
Live entertainment
Garden area
Leisure/ TV room
Spa & wellness center
Sauna
Pedicure
Manicure
Beauty treatment
Massage
Pool with view
Room features
In-room air conditioning
Heating
Sitting area
Patio
Terrace
Garden furniture
Tea and coffee facilities
Ironing facilities
Bathroom
Bathtub
Hair dryer
Free toiletries
Media
Flat-screen TV
Cable/ Satellite television
Direct dial telephone
AM/FM alarm clock
Good to know
Check-in
from 15:00-23:30
FREE
Check-out
until 11 am
FREE
Children & extra beds
There are no extra beds provided in a room. 
Pets
Pets are allowed on request.
License number
TA-064-482-0992-01
Rooms and availability

Premium King Room Mobility accessible

Bed options:

Max:

2 persons
King Room Mobility accessible

Bed options:

Max:

2 persons
Location
57-091 Kamehameha Highway
,
Kahuku
,
Hawaii
,
United States
,
96731
, Hawaii
City landmarks
Nearby
Restaurants
Park
Kawela Bay Beach Park
1.5 mi
Kukaimanini Island
1.5 mi
Waiale'e Beach Park
2.2 mi
Off the Kamehameha Highway
Beach
Kuilima Cove Snorkeling
100 ft
Restaurant
The Point Sunset & Pool Bar
600 ft
You can book a shuttle, once your reservation is complete.
Reviews of Turtle Bay Resort
Ryan

A bathtub in the bathroom was a plus. The housekeeping staff took care of us.

John

It's a perfect place for honeymoon. The room was very spacious and beds were comfy. The hotel was right by the beautiful beach. A buffet breakfast.

Sarah

In the evening we visited lei lei's bar & grill it was nearby. The view out of the windows was beautiful. The personnel was always FRIENDLY.

No.

missing

Great view.

Reception (the face of the hotel) was not worthy of the hotel. Rather high price-performance ratio

missing

Felt like a great trip away from everything, including the business of the south side of oahu

Paying for internet usage, I think this could be included in the room price if possible and also some cheaper eating options.

missing

View from hotel is beautiful, far enough away from the hustle and bustle of Waikiki.

For the price, the rooms were slightly run down and could of used some upgrading, It took the bellman about an hour to bring our clothes up to our room, and after a long day of travel it felt like an eternity. The price of food and drinks were extremely high for the value.

missing

Location.

Extremely over priced in comparison to other hotels/resorts on the island of Oahu. Good staff, however, it is not worth the money spent.

missing

Many facilities, good restaurants. Nice vue.

Would expect bathrooms to be more modern considering this is a 5 star hotel. Lobby bar is closing early. Some of the staff could be more friendly. Breakfast is very expensive. A little up the road, direction Honolulu, there is a bakery where you can eat with 4 for the price of 1.

missing

The resort was beautiful but it was way too expensive for what we got. Our room was uncomfortably warm at night. The air conditioner did not work well and we were discouraged from even using it. We slept with the sliding glass door opened and the room was either too warm or too clammy. There was no ceiling fan. If one is not a surfer or a golfer, there really was not much to do there. I was disappointed in the number of activities available near the resort. I will not recommend the resort not will I stay there again.

missing

Location...close to great North Shore surfing.

Hotel is once again in decline. Owners did a much needed renovation a few years back when they purchased the property, but they have since dropped the ball and the hotel is once more fading with lots of deferred maintenance issues. The Cottage we staying in had terrible ventilation and its old carpet was musty/moldy. No one slept well during any night of our stay and most usually woke with a headache. Verdict: So much potential, but a good night sleep is too important to stay here. Regrettably we will not return.

missing

Very isolated location so good for just relaxing. There is a nice and quiet beach for kids.

We expected luxury hotel room because of its high room rate but dissapointed.Sophas and chairs were damaged and torn.

missing

Location!

The main reason we went to Turtle Bay was for the Spa. When we arrive we were told that the spa was closed for the 2 days we were there. We were extremely disappointed, we were never told this was going to be the case, and never given any apology, we were not happy! This was a major disappointment for our stay at Turtle Bay especially for the amount of money we spent in 2 days there, $2600!

missing

Amazing staff and location. Great amenities for families with pre-teen to teenage kids.

Food was a bit limited and extremely expensive, but not that surprising given it is a resort

missing

missing

The room decor and the comfort it gives, the beach, the lobby decor, the hammock and other relaxing ammenities are very soothing and inviting.

It would be perfect if it inclides complimentary breakfast, if we were able to bring it out to have breakfast by the beach. The drive was long and we hit the traffic maybe because President O arrived.
FAQ about Turtle Bay Resort
How far is Turtle Bay Resort from the city center?
Kahuku city center is reachable within a 5-minute walk from Turtle Bay Resort.
What landmarks can I find in vicinity of the Turtle Bay?
Attractions near the Turtle Bay include Kuilima Cove Snorkeling Beach as well as Kahuku Land Farms, they can be reached with a 5 minutes' walk and a 17 minutes' walk respectively.
What are our dining options during the stay in the 5-star Turtle Bay Resort Kahuku?
The 5-star Turtle Bay Resort Kahuku features 2 restaurants for on-site dining, among them an American restaurant Pa'akai featuring a more expensive price point as well as seafood cuisine.
Can I have breakfast at Turtle Bay Resort?
Yes, guests can enjoy buffet breakfast provided by Turtle Bay Resort.
What time is check-in and check-out at the Kahuku hotel?
Guests of the Kahuku hotel can check in from 3 PM to 11.30 PM and check out from 11 AM.
Which amenities are included in the rooms of the Kahuku resort?
Certain suites at the Kahuku resort boast views over the ocean as well as feature complimentary Wi-Fi and television and a safe box for security reasons.
Does Turtle Bay Resort Kahuku offer facilities for business travelers?
Turtle Bay Resort Kahuku conveniently features a desk and a photocopier as well as a 24/7 business center and meeting rooms on-site.
Does Turtle Bay offer any rental services?
At Turtle Bay guests are offered to rent cars.
Which facilities are available in Turtle Bay Resort?
Turtle Bay Resort features an impressive score of 9.4 for its facilities, which include a cash machine and an elevator.
What sport activities at the hotel can I take part in?
At the hotel guests can attend a fitness center available on-site or make use of aquafit and yoga classes.
What spa facilities does Turtle Bay Resort offer?
At a wellness area featured at Turtle Bay Resort guests can receive such spa treatments as beauty treatments, pedicure and manicure. Additionally, a hot tub and sauna facilities are offered on-site.
Does Turtle Bay Resort Kahuku have a bar to relax at?
Guests of Turtle Bay Resort Kahuku are welcome to relax at the onsite poolside bar.